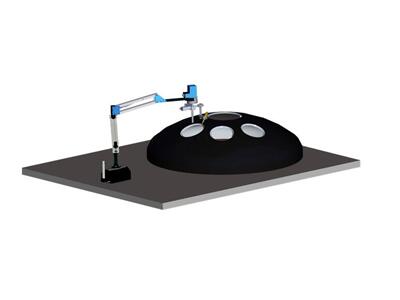 series mobile head pipe cutting machines are upgraded portable saddle hole cutting machines with multi-functions.They could cut larger holes on the pipe head and pipes in multi-orientations to achieve a satisfied cutting solution.This series cutting machines represent a higher cutting skills in pipe cutting filed.
Products Features:
Smoothly,accurately cut and bevel .
Light and portable for more occasions working .
Positioning by laser to achieve precise cutting process .
With remote controller,highly intelligent but simple to operate .
With magnet base,easy to install and removal by only one man .
Build-in program system in the controller,no need tie in with CAD skill .
Cutting methods could be flame cutting, plasma cutting and water jet cutting .
Able to cut pipes with spherical head & torispherical head & spherically dished head.
Easy to cut orthogonal or eccentric holes on pipes with stainless steel or carbon steel materials.
Meet saddle hole cutting of heads in the national standard (GB 150.3 2011) pressure vessel design.
Products Parameters:
| | | | | | | | |
| --- | --- | --- | --- | --- | --- | --- | --- |
| Oreder No. | Model No. | Functions | Bevel Angel | Cutting Cource | Vertical adjustment | Holes Range | Weight |
| 2-101-0005 | MAK-15 | cut orthogonal holes on pipe-head | ±45° | Oxy-Acetylene | 0-300mm | 50-600mm | 50kg |
| 2-101-0011 | MAK-15B | cut orthogonal holes on pipe | ±45° | Oxy-Acetylene | 0-300mm | 50-600mm | 50kg |
| 2-101-0006 | MAK-16 | cut orthogonal and eccentric holes on pipe-head and pipes | ±45° | Oxy-Acetylene | 0-300mm | 50-600mm | 52kg |
| 2-101-0009 | MAK-1216 | conbined the function of MAK-12 and 16 but with one CNC controller | ±45° | Oxy-Acetylene | 0-300mm | 50-600mm | 80kg |
| 2-101-0010 | MAK-17 | cut orthogonal and eccentric holes on pipe-head and pipes from multi-directions | ±45° | Oxy-Acetylene | 0-300mm | 50-600mm | 80kg |
Application Cases: